I'm so excited to offer these excerpts from Follow the Yarn! Enjoy!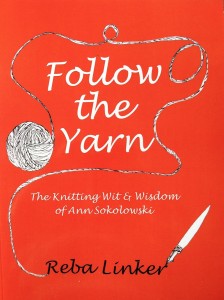 From Chapter 7:
When we met in October 2009, it was evident that Ann was not in the best of health. She used a walker, and had mentioned celiac disease, missing toes, and an exposure to Agent Orange, though we never got the full details. The driver who brought Ann to class every week was not a luxury, but a necessity. The few times the elevator at the Y was out of service meant either finding a room on the ground floor or canceling the class. Stairs were out of the question.
I suspect that Ann's health affected the way she ran her class. Her vision was not always reliable — which may be one reason we were rarely treated to watching her knit. I later found out that Ann's visual difficulty was due to diabetic retinopathy. Of course, she turned this frailty into an asset, making a pedagogical point of having us use our ears and brains rather than our eyes!
Her health issues may also explain her organization of the class, and her distractedness. Some days must have been harder than others. Yet she was there, on time, always eager to share her knowledge with the group.
Why did Ann teach at the Y? It was a volunteer position. She commuted at considerable expense and trouble to herself, hiring a car and driver, and she was there without financial remuneration.
Certainly, Ann had something of value she wanted to share. Perhaps, too, she needed us as much as we needed her. Unlike many people, Ann relieved her loneliness by giving rather than by taking.
From Chapter 8:
Whether or not we managed to accomplish the day's lesson plan (if there was one), I loved being there.
Ann seemed to take the measure of each person with a piercingly accurate mental yardstick. Some folks she teased ("You! Go sit in the corner!" was a repeated refrain to one of her most devoted students), others were handled more gently, and still others were practically chased away.
She saved her particular wrath for an instructor who marched through our classroom on her way to her supply closet; apparently, the instructor did not exhibit enough awareness of Ann's claim on the space, and Ann, ever the lioness, growled at her every time she passed through.
She rarely teased me or even interacted much with me in class. Yet in a way that has been rare in my experience, I felt recognized — truly seen — in her presence.
What does that mean, seen? My friend Anoush asked, "OK, the class was sometimes disorganized, she wasn't always pleasant, so what were we doing there?"
I was there — I've come to understand now — because I felt recognized, quietly understood. And when I say that, I specifically mean recognized for good, recognized as good. Validated.
In the Jewish tradition, there is an admonition to heker hatov — "to see the good" — as a daily practice, to consciously and conscientiously seek out the positive in every situation, rather than focusing on the negative. In retrospect, I had been going through a dark period in which I felt little trust, little sharing, little faith coming from the people around me, no matter how I tried to merit their trust and care. As a result, I doubted myself; I felt untrustworthy, undeserving, disregarded, dishonored. At that moment, Ann's simple gaze of respect was a hand held out in the darkness to pull me toward the light.
Ann hekered hatov in me, easily, naturally. Though I didn't realize it at the time, that is what drew me to write about her, and that is the key to what became such a source of healing for me. Ann saw the good in me, and that enabled me to see the good in myself and, ultimately, even to see the good in all that had happened to me — even the hardships, perhaps even especially the hardships.
Ann and I never spoke about personal matters. We didn't call each other up to chat (though she gave out her phone number and invited us all to use it). Yet as I sat in class, I felt Ann's recognition as a thread connecting us, a steady hum that sang beneath the clatter of teasing and technique. I felt surrounded by an aura of acceptance, confidence, and trust. I get a lump in my throat when I think about it. And I have to chuckle. Here I am, welling up at some bossy lady telling me to etch some knitting technique on my eyelids!
The universe works in mysterious ways. Go figure.
Reba Linker is a coach and author specializing in inspirational books for women. Her book, Follow the Yarn, encourages others to 'follow their own yarns,' tell their stories, and discover their true voice. Download your free excerpt by signing up for the newsletter in the upper right corner of the website. Follow the Yarn is sold on lulu.com and where books are sold online; you can find pdf versions of all Reba's books at https://www.etsy.com/shop/RebasTreasureTrove?
ref=search_shop_redirect !