This post is part of the 'inspirational stories for women' and 'stories that heal' series. This is such a fun project, I had to share it with you. Of course, we know that fun is deeply healing!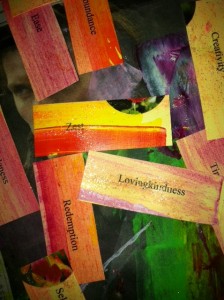 During holiday countdown, the idea of crafting a gift may elicit groans of despair rather than holiday cheer. Nonetheless, once you start, the joy of creativity takes over, and the effort you put in gets returned to you tenfold, especially with such a delightful project.
Creating a gift can help you slow down and be in the moment, and experience the true joy of giving. To quote Rainer Maria Rilke: "All this hurrying will soon be over. Only when we tarry do we touch the holy."
Angel cards are useful coaching tools or for personal use whenever an inspiring word or 'angelic guidance or assistance' is needed. Some people use them everyday, once a week, or even once a season.
Hand-made Angel Cards are easy and fun to do. Here's how:
On my computer I created three pages of words, three columns of ten words each, i.e., 30 words per page for a total of 90 words. I kept it simple and used Times New Roman, font size 16. If you have the time and inclination, you can make the fonts more varied and expressive, or even hand print the words.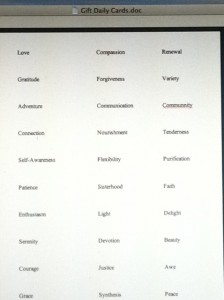 I printed each page on a different pastel-colored cardstock. White is fine, too.
Next comes playtime! Using watered down acrylic paints, I borrowed Laura West's fab technique of using a credit card edge (you know those sample "Your Name Here" cards that come in the mail? Great artist's tool!) to scrape paint across the page. Markers, watercolors and brushes work fine as well, as long as the words are legible. Scrapes, drips, splashes, squiggles – anything goes. I used stickers and glitter paint as well.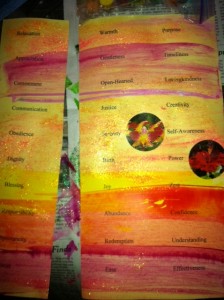 Pretty pages.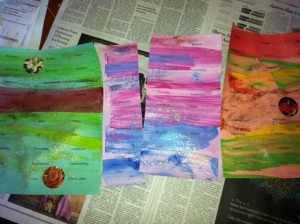 When the pages are dry, cut them up. I used a scissor, since I wanted a hand-crafted uneven look, rather than a machine-perfect result.
Each one is its own little mini-painting.
Bundle them up and tie them with a bow.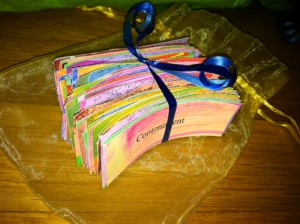 Gift wrap them as they are, or find a pretty pouch or box to hold them.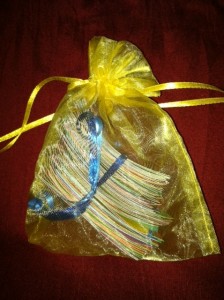 Ready to give!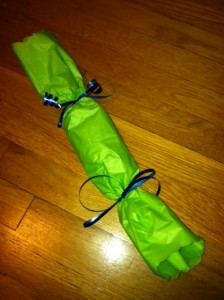 As I played, I thought with love of the person who would receive them and I know my good wishes for that person are part of the gift. Success is surely in the cards for this project!
Bonus: Here is the list of words I used:
SourceURL:file://localhost/Users/rebeccalinker/Documents/Projects/Various%20Projects/Gift%20Daily%20Cards.doc
Love                                              Compassion                        Renewal
Gratitude                                       Forgiveness                          Variety
Adventure                                     Communication                   Community
Connection                                    Nourishment                         Tenderness
Self-Awareness                            Flexibility                            Purification
Patience                                         Sisterhood                            Faith
Enthusiasm                                    Light                                     Delight
Serenity                                         Devotion                              Beauty
Courage                                         Justice                                  Awe
Grace                                             Synthesis                              Peace
Relaxation                                     Warmth                              Purpose
Appreciation                                Gentleness                            Timeliness
Contentment                                 Open-Hearted                      Lovingkindness
Communication                            Justice                                  Creativity
Obedience                                     Serenity                                Self-Awareness
Dignity                                          Birth                                     Power
Blessing                                         Joy                                        Zest
Responsibility                               Abundance                           Confidence
Spontaneity                                  Redemption                         Understanding
Focus                                             Ease                                      Effectiveness
Honesty                                         Truth                                             Healing
Simplicity                                      Growth                                 Inspiration
Strength                                         Freedom                               Remembrance
Support                                          Trust                                     Wisdom
Protection                                      Energy                       Transformation
Clarity                                           Play                                      Grace
Encouragement                            Sweetness                            Confidence 
Knowledge                                  Sureness                               Thankfulness 
Sparkle                                          Freshness                             Bloom 
Obedience                                     Cherish                                 Care
Reba Linker is author and coach specializing in inspirational books for women. Her book, Follow the Yarn, leads by example, daring and encouraging others to 'follow their own yarn,' tell their own stories, and discover their own true voice.