Let's fill up on the fruits of summer! Here's what I've been up to: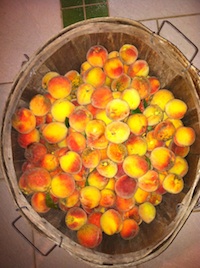 I am soooo excited to be creating my first course: "IMAGINE! 30 Days of Self Love." There will be a daily video with an inspirational quote from Follow the Yarn, as well as a daily journaling and put-it-into-practice exercises. It will be both an e-course and a live, participatory course, and I am so looking forward to going through the course with you.
With that, I have been scaling a steep learning curve over how to technically deliver the course. It is funny to be in such a people-oriented profession, and yet spend so much time learning technical tools. Life is full of surprises.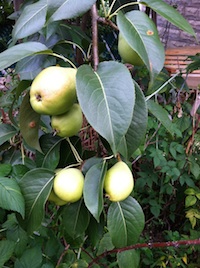 I am thrilled to announce that my new book, Happiness is a Habit, is in its (I hope) final revising stage. My first beta-reader will be giving me feedback tomorrow – wow! I am excited, grateful, and my heart is in my mouth! Our creative projects are indeed like our babies. I hope to give birth, er, publish in January 2015.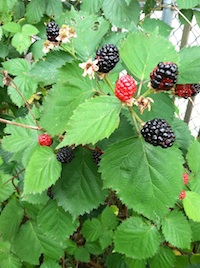 I have been cultivating peace at home, and peace within my own heart. My teacher Shanta once said that wisdom is sometimes simply being too tired to fight, and that is what is happening to me. I just do not have any energy for strife, and that is a good thing. Still, knowing how challenging it can be to walk away from an argument or find a peaceful solution, my heart goes out to those all over the world who are struggling with conflict under much more dire circumstances. I wish them the courage that true peace requires and, mostly, I wish them peace.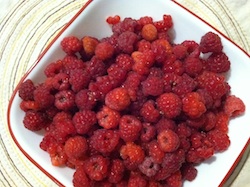 The photos are the fruits of my little NYC garden. It has been a good year for cherries, peaches, raspberries and blackberries, and the pears are just ripening.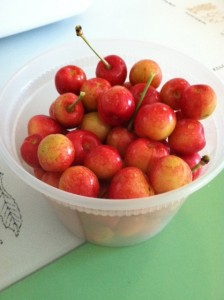 I hope you are also enjoying the fruits of summer! Tell me about your summer – was there a theme or a trend that you noticed? Was it what you hoped for? Was it planned, or did you roll along with the season or get swept up in life events? Taking time to pause and look at where we have been will sometimes help us move forward. Post comments below, and I will post the question on FB at Reba Linker, Author/Coach as well – as always, I  love to hear from you!
Love & Gratitude, Reba