I had this 'aha moment': narcissists are story snatchers!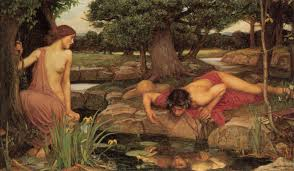 Often, narcissists are described in psychological terms as 'self-involved.' What was so electrifying about my insight is it depicts the action and impact of what a narcissist does.
Granted, living with someone self-involved, particularly for a child, can be lonely, frustrating and difficult. Yet, it seems to me, narcissists are far more active than that. While a self-involved parent might not give a child the time and attention she needs, a story snatcher impacts and impinges on the child's space. The child's very self-hood gets usurped and redirected towards the narcissist.
Narcissists are story-snatchers. Those around them exist only as secondary players in their drama. The roles they offer their offspring – failure or golden child – both require sacrificing  authentic experience in order to 'perform' the parent's script to try to 'win' the parent's 'love.'
As the child grows, she becomes an unwitting accomplice in her own dis-empowerment by continuing – as she was so well taught – to place inappropriate emphasis upon the needs and drama of the parent. She will follow the parent's script as long as she lives – unless she reclaims ownership of her story. Only in this way can she take back her power.
Without our story, life is but a play of shadows, inauthentic and unsatisfying.
Adopting someone else's version of the truth is like treading our way through a dark, unfriendly forest: no landmark is secure, no tree looks fully familiar, even the earth does not feel wholly stable. All is made strange by looking at life through the narcissist's lens.
Narcissists are story-snatchers – and this is what makes living with them so devastating. It is a secret crime. No one outside the relationship will ever know or believe that a crime has taken place, but it has, at the deepest level. The crime: Grand Theft Story. It is a crime that jails the victim, placing her within the confines of a narrative that does not fit her authentic self.
Reclaiming ownership of our stories is like stepping out of the shadows and into the sunlight. Everything has the potential to make sense in a new way. The hurt and struggle of the past can be transmuted into a source of power, freedom and pride.
Why do I write about this? I lived it, and I found a way out of the forest.
My story is mine, not theirs. The ugliness of my story is no longer a source of shame, but rather, of dignity. On the 'other side' of this journey, I can feel gratitude for the experiences that make me, me – harsh though they were, and as ongoing as the process of healing will be.
The pain of living without my authentic story taught me its worth. As only a prisoner can know the value of freedom, I know the nature of self-hood – what an all-important thing it is – both my own, and, by extension, each of ours. This is a gift beyond price, which I bring both to myself and to everyone whose life I touch.
We can learn to peel off the strange lens that warped our view of our selves and our lives. Reclaiming our experience and taking back ownership of our stories offers a way out of the forest and into the sunlight, where the landmarks feel true and the ground we walk on feels, maybe for the first time, real.
This post is based on an excerpt from my new book, Happiness is a Habit, due out later this year. 
Reba Linker, coach and author specializing in inspirational books for women and 'stories that heal.' Her coaching encourages others to 'follow their own yarns,' live their best lives, tell their stories, and discover their authentic voice.
Sign up for the  newsletter in the upper right corner of this website.